Executive Vice President / Business Development
7 Year Executive with the Buffalo Sabres & 17 Year Executive with the NHL.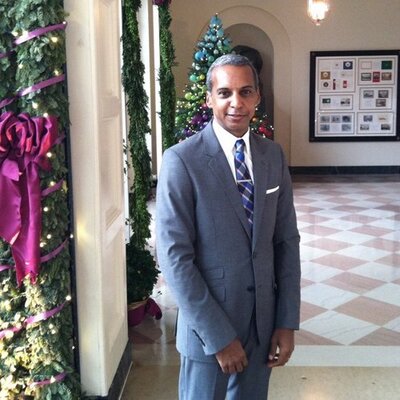 Kenneth Martin, Jr. served as Senior Vice President of Industry Growth Fund/Fan Development, Public Affairs & Social Responsibility for the National Hockey League from 2000-2017. Responsibilities included directing the overall growth opportunities for fan development, youth
hockey, community relations, cause-related marketing, and social responsibility and philanthropic giving. Kenneth also supervised the recruitment and management of NHL's corporate partners in these respective areas of business. He also directed the NHL's government
affairs relationships with the White House, Senate and Congress including NHL team engagements and the establishment of the Congressional Hockey Caucus. Kenneth was assigned during the current Collective Bargaining Agreement to develop the growth pillars for the Industry Growth Fund (Youth Hockey, Ball/Street Hockey, Ice Rink Development, Diversity Initiatives, Fan Development) all designed to impact participation, activation and revenue growth for both the NHL and NHLPA. Kenneth played an integral role in the administering and funding of $60 million annually for League-wide programming with all 31 NHL Member Clubs focused on grow the game initiatives including academic and social issues affecting families and youths. Possesses a high-level stakeholder engagement and ability to collaborate and build relationships with Board of Governors. Possesses outstanding interpersonal skills and the ability to persuade audiences toward participation and monetary donations. Kenneth is credited with the creation and activation on two signature League Initiatives:
Learn-to-Play an instructional initiative developed with the help of experts from USA Hockey and Hockey Canada aimed to be the gold standard for youth hockey programs with the goal of inspiring more families to join the hockey community. Learn to Play changes the way youth hockey is offered by providing first time participants, head-to-toe equipment, weekly sessions of age appropriate on-ice instruction and certified coaching, led by National Hockey League Alumni, in a fun and safe atmosphere. Learn to Play on-ice instruction plans have been
developed in collaboration with experts from USA Hockey and Hockey Canada and taught by certified instructors and led by National Hockey League Alumni. In 2017, over 80,000 first time participants have joined Learn-to-Play. In addition, Kenneth oversaw the day-to-day efforts of
the NHL's partnership with USA Hockey and Hockey Canada, the two governing bodies for youth hockey and its combined membership of 1.8m youth participants. He is committed to providing directional growth for new fans and families through the various grassroots initiatives. Future Goals/Hockey Scholars a North America instructional in-school STEM based sports curriculum (K-12) that utilizes real world applications of science and math principles to keep kids engaged in fun interactive learning to date over 1.2m students have completed the Future Goals/Hockey Scholar curriculum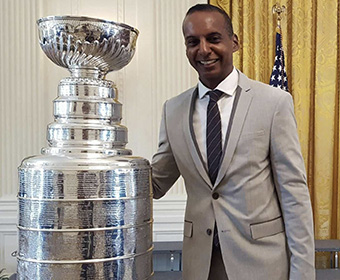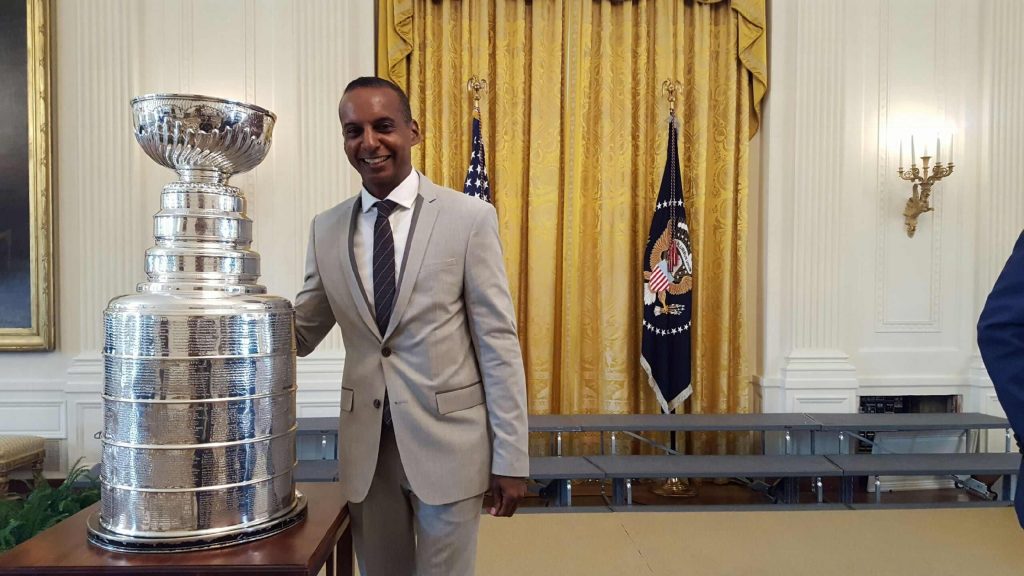 Kenneth is credited with leading a renewed branding and player participation focus to the NHL's philanthropic and cause-related marketing efforts. He created and directed the activities that supported the philanthropic efforts of the NHL and the 31 Member Clubs to ensure that a greater visibility and participation supports the NHL's "Biggest Assist Happens off the Ice" campaign. During Martin's tenure at the NHL, the League has experience outstanding visibility for its philanthropic initiatives "Hockey Fights Cancer" raising more than $18 million to support
cancer research. He renewed the brand of "Hockey is for Everyone" initiative designed to bring the sport of hockey to those underserved youths and families due to geographic and/or economic resources with a focus on diversity inclusion, to date over 120,000 participants have joined HIFE. Kenneth is credited with supporting the development of the "Soul on Ice" documentary focused on the Leagues' efforts of "Hockey is for Everyone". In 2013, Kenneth established the NHL & Thurgood Marshall College Fund Scholarship program specifically geared for HIFE participants to pursue higher education at universities/colleges with a merit based scholarship, to date over 12 participants have graduated or are attending university/college and institutes of higher learning. During his tenure, Kenneth was also responsible for the Leagues' street hockey ball program "NHL Street" impacting over 250,000 youths annually.
Kenneth is credited with the development and funding of the National Hockey Leagues' All-Star, Winter Classic and Outdoor Series Legacy programs designed to create a community legacy initiatives following the Leagues' signature games, to date these have included Children's
Hospital playrooms, Ball & Street rinks, Food drives, and monetary donations on behalf of the League and its host cities with the goal of growing the game. Martin is a dynamic and creative professional with the ability to leverage both strategic and operational resources to market grassroots programs, initiate relationships with business partners and generate revenues for the sports organizations. Kenneth is a highly motivated and strategic individual with partnership and account experience to engage and activate funding opportunities through the Industry Growth Fund committed by the NHL/NHLPA and Board of
Governor's. Experience in building and cultivating new relationships through critical thinking to navigate and maximize NHL partnerships for maximal growth and brand awareness. Kenneth has been featured in numerous media outlets. He has been recognized as a pioneer and global leader and is the recipient of numerous awards throughout his professional career: Herbert H. Carnegie Aces Award (2012), Ice Hockey in Harlem Honoree Award ((2011), Leukemia & Lymphoma Society Partnership Award (2010-2011), The Our AIM Foundation Award (2013)
Martin began his NHL career with the Buffalo Sabres (1993-2000), where he was responsible for the development and implementation of community relations. Kenneth was personally recruited by Commissioner Gary Bettman to join the National Hockey League in 2000 as the Director of Community Relations.
Kenneth resides in Williamsville, New York with his wife, Amy.